The American Dream
We're in Black Canyon City, Arizona. A rear tire blew on the motorcoach (No, Joe didn't have anything to do with this one!). We couldn't locate a tire of the correct brand and size locally, so American Coach sent one overnight via UPS. The shipping cost was almost equal to the cost of a new coach tire. Thank you American
Coach!!

Tomorrow we're moving on to Phoenix to visit Judy's brother-in-law's parents for a few days.

We still plan to be back in Orlando around Thanksgiving. The trip has been fantastic!


Back to Hamricknet.net
We've put almost 18,000 miles on the coach, 8,000 on the Honda, and 6,000 on the Harley!!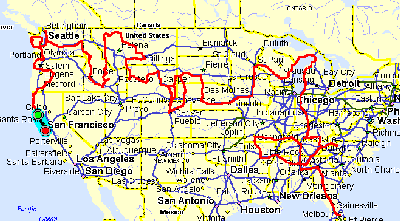 Hitching a Honda CRV and a Harley Ultra Classic to a motor home and heading out to see these great United States may not seem like the American Dream to everybody, but it's close enough for us. After dreaming about such a trip for a lifetime and planning for six months, in January of this year we took the initial step and purchased a 40' American Dream motor coach.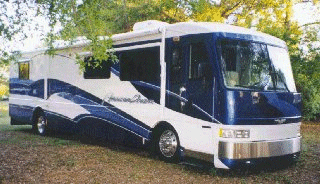 Our test run was a short trip to Pine Mountain, Georgia and a visit to Callaway Gardens and Roosevelt's Little White House.
On May 6th Judy, Sasha and Woody loaded the coach and began a six month journey to see what this great country is all about.

Our first stop was Cullman, Alabama to pick up Aunt Ruby. Then on to Branson, Missouri by way of Memphis, Tennessee and Graceland.